Pudong New Area Enterprise Service Center: "Waiting" on Enterprises
Text by
Qiao Zhenqi
Photographs by
Qiao Zhenqi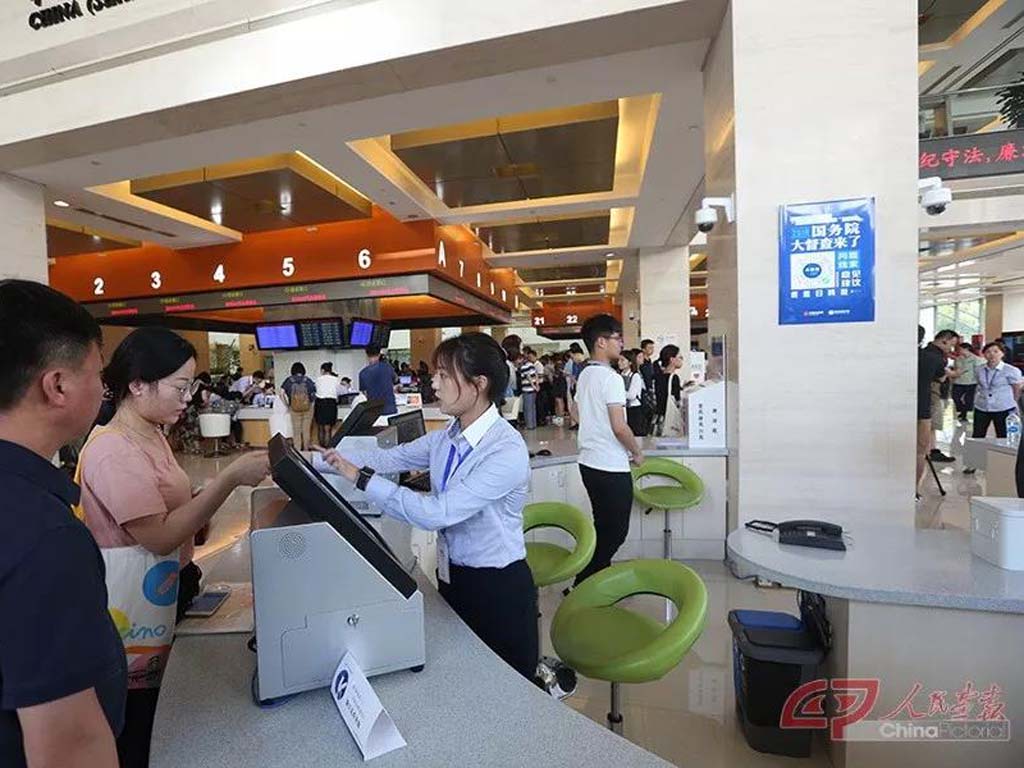 Editor's Note
"China will not close its door to the world; we will only become more and more open," declared Chinese President Xi Jinping at the 19th National Congress of the Communist Party of China. Standing at the new starting point after 40 years of reform and opening up, China again voiced its determination to further open up to the world.
Thanks to China's reform and opening up, the Pudong New Area of Shanghai was born and has prospered, becoming a forerunner of China's reform and economic development. Since its establishment on April 18, 1990, Pudong has achieved leapfrog development. Over the past 28 years, Pudong's economic aggregate has risen to 965.1 billion yuan—160 times higher than the figure of 6 billion yuan in 1990, while its fiscal revenue has grown 394 times, from 1 billion to 393.8 billion yuan. Moreover, after chewing on some "tough bones" of reforms which had hardly been touched since China's reform and opening up, Pudong has preliminarily formed a sound development environment in line with international standards.
What has happened to Pudong? How has Pudong influenced China and even the world? In the new era, what new contributions will Pudong make? From today, China Pictorial will present a series of reports on the Pudong New Area to commemorate the 40th anniversary of China's reform and opening up.
Pudong New Area Enterprise Service Center: "Waiting" on Enterprises
Text and photographs by Qiao Zhenqi
Pudong New Area Enterprise Service Center is located at 2 Hehuan Road in Pudong New Area, Shanghai. In this building, all the administrative affairs related to state-owned enterprises, private enterprises, and foreign enterprises get a literal window. Through it, customer requests are received and services provided. When customers sit down, the window height is leveled beneath their chest, allowing the staff to speak to them without glass barriers.
The examination and approval offices of all departments involved in business affairs are located in the service center. All items of market access examination and approval are dealt with by a "general management window," while examination and approval procedures for investment and construction projects are handled by another single window. Offering service quality of the highest international standards, Pudong Enterprise Service Center focuses on continued improvements in its service work. "Staff do not have to ask for instructions for a nod, but they have to report on every refusal." A general-response customer service mechanism is set up, including a "double check" mechanism, a "no-veto window" mechanism, ab assistant mechanism, a theme package mechanism and a dynamic optimization mechanism to reduce examination time. The service personnel only have the right to say "yes" and not "no". They are required to do their utmost to "set up road signs and remove roadblocks" to help the applicants.
In addition, the service center has also built an electronic certificate database to bring about mutual recognition and share electronic certificates and information within the government, thus greatly relieving the burdens of enterprises to provide the same information repeatedly to different departments.
Case of Facilitating Businesses
The First Hema Fresh Store Settles in Pudong
As a new retailer based on data and technology, Hema Fresh is committed to building a one-stop experience center with a new mode of retail. In the eyes of customers, Hema Fresh is not only a supermarket with a self-checkout system, but also a restaurant and even a wet market.
Customers can shop at a Hema Fresh store or choose to order on its mobile app, and the commodities can be delivered to those located within three kilometers in 30 minutes.
There hadn't been an established precedent for such a kind of retail business. But when Hema Fresh proposed this novel model to the Pudong New Area Enterprise Service Center, the supervisory bureau didn't refuse the application with the reason that there was no such business mode in their system. Instead, it accepted the new idea and formed a service group. This group discussed how best to improve the idea with the company, and in the meantime, also submitted the application to higher authorities for permission. As it was also the time when the Food Distribution License and the Catering Service License were being combined into the Food Trade License, the service center seized the opportunity and included the categories relating to large restaurants, pre-packaged food and bulk food in the supermarket, as well as e-commerce into the license for Hema Fresh, so as to ensure that the company's several business modes and convenient delivery service abided by regulations.
"When an enterprise comes up with a concept, we get involved at the same time. As their idea enriches, it enhances the idea of the service center," Wu Ming, an official with the market supervision bureau of the Pudong New Area, told China Pictorial. "We explore with enterprises the layout, process and food safety traceability, guarantee that their practices conform to regulations, and ensure food sales and catering service merge well, bringing customers a brand-new experience." Finally, thanks to the joint efforts of the government and the enterprise, the first Hema Fresh store opened in the Pudong New Area in January 2016.