Sanctuary for Antiquarian Books
Text by
Liu Peiyao
Photographs by
Qin Bin
Tucked away in Nanyang Lane in Beijing's Dongcheng District, Booyee Bookshop offers readers a chance for close contact with rare antiquarian books. Reading an ancient book opposite floor-to-ceiling windows in the bookstore fashioned from a former theater while sipping a cup of coffee is quite an experience. Hu Tong, the founder of Booyee, has been devoted to book collection and sales for more than 20 years.
New Life for Old Books
One can find a wide range of antiquarian books from various historical periods in Booyee Bookshop including rare painted guidebooks and priceless collections of Dunhuang murals as well as old cookbooks, poetry collections, and magazines collected by ordinary families. On the wall behind the piles of rare antiquarian books, second-hand books, and photocopied editions on Hu Tong's office desk is an inscription of the bookstore's name penned by famous Chinese cultural heritage expert Wang Shixiang (1914-2009).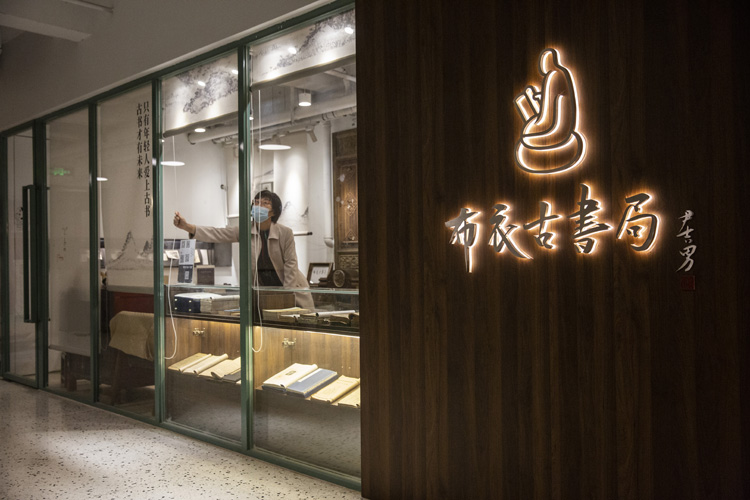 From 2003 to 2020, Booyee moved several times from a backstreet courtyard to an office building and then to a residential quarter before settling in its current location. Reasons for moving included changes in demand-supply situation for second-hand books, the bookshop's expanding stock, and the gradual decline and marginalization of physical bookstores.
"Without support from our readers, Booyee would have been closed down years ago," Hu lamented. "The bookstore is more than just my personal dream and business. It represents many book lovers and collectors' dreams about what an old-style bookshop should be like. If Booyee makes their lives a bit better, that's enough."
Hu has also moved Booyee online. So far, the bookstore has done more than 90 livestreamed sales sessions in the past 70 straight days. Alongside sales of second-hand and antiquarian books, Booyee organized two livestreams for new releases that achieved sales volumes exceeding 400,000 yuan (about US$61,500).
Introducing Ancient Books to Young Readers
In April 2020, Hu converted a 34-square-meter corridor in Nanyang Lane into a bookstore specializing in ancient books dating back to the Ming (1368-1644) and Qing (1644-1911) dynasties as well as replica editions and derivatives. After the new bookshop opened on July 18 of that year, many younger people quickly embraced the opportunity to get close to antiquarian books.
Wielding his profound knowledge of ancient books and enthusiasm for spreading the culture, Hu organized a series of activities for readers to admire and read rare ancient books in the bookstore. He hopes that such visual and sensory experiences increase interest in ancient books and the stories behind them.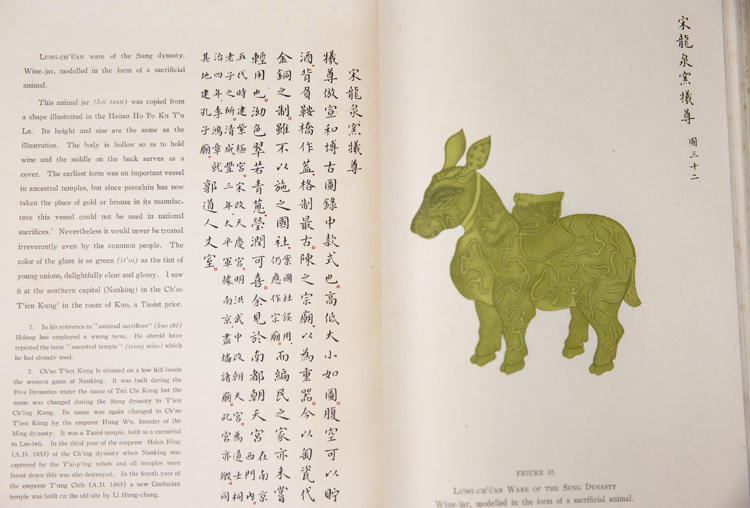 Such activities help enhance young readers' intimacy with traditional culture. Hu also takes ancient books to communities and schools. Recently, he was invited to lecture at Peking University, at which more than 60 teachers and students attended to enjoy the antiquarian books he brought. "Ancient books are carriers of traditional culture," he said. "Whether they're in the script of the Han people or other ethnic groups, the books need to be passed down. China invented traditional printing. Exploring the secrets behind these ancient books is crucial to the inheritance of traditional Chinese culture."
Seeding the Future
Almost daily now, Hu and his colleagues dig through their piles of books to package and ship those sold via live-
streaming. Outbound shipments are neatly arranged on a long table. Hu thinks of every shipped book as a gift sent to a faraway friend, so he wants customers to open the boxes with excitement.
Over the 20 years since he started his career in the business, Hu has witnessed drastic changes in publishing and circulation. The recent popularity of digital reading has made the functions of printed books, including antiquarian books, transform. Twenty years ago, antiquarian books were mainly used by scholars and researchers for studies. Today, they are mostly bought by customers for collection and exhibition purposes. Of course, some have a value-added function.
Hu remains neutral on the future prospects of his bookshop. "Booyee's future is still sated with uncertainty," he sighed. "Right now, all I can do is take solid steps forward, and wait and see. I hope the brand will last. Booyee will celebrate its 20th birthday this year, and I hope it lives a couple more decades. Why do practitioners like me insist on preserving the antiquarian book business? I think all we're doing is planting seeds for future enthusiasts."