Seeding Indonesia's Future
Text by
Lu Zhou
Photographs Courtesy of
Syngenta Group China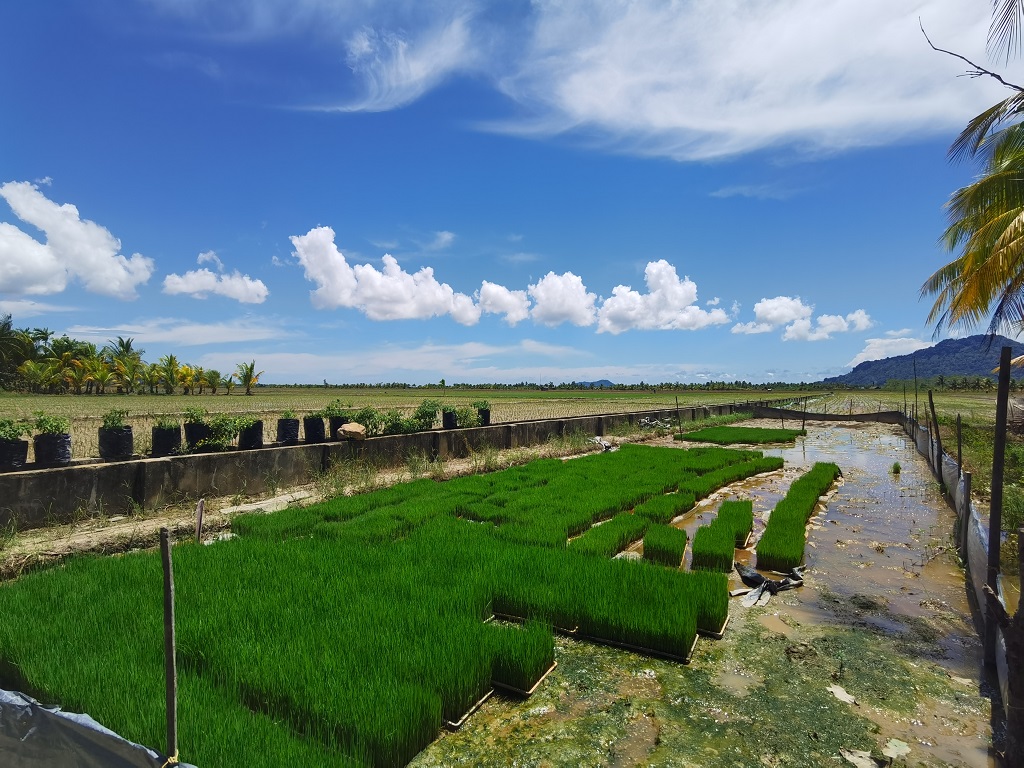 "A rice grain can save a country or make it fall," noted Yuan Longping, a prestigious Chinese agronomist known for pioneering the development of the world's first hybrid rice varieties.
Food security has always been at the top of the agenda for agricultural cooperation between China and Indonesia, the most populous and the fourth most populous countries worldwide respectively. Now, among the over 80 hybrid rice varieties imported by Indonesia, more than 60 come from China. Chinese seeds have helped enhance Indonesia's food security and promote local poverty alleviation.
Relieving Food Shortage
Indonesia boasts desirable natural conditions for multiple grain harvests within a year, including fertile land, abundant rainfall, and rich water resources. Indonesia once achieved its food self-sufficiency in 1984 through introducing high-yield crop varieties and improving irrigation facilities.
However, since the 1990s, Indonesia has once again resorted to importing large amounts of food, after much of its arable land was converted in order to keep up with the country's continuous population growth and accelerated industrialization and urbanization. Since 2005, the Indonesian government has gradually introduced new hybrid rice varieties from abroad, more than 90 percent of which are imported from China.
Indonesia plays a major role in traditional rice cultivation, with cultivation areas ranking third globally. However, the yield per unit area had been within a relatively low range due to outdated cultivation methods and farmers' lack of awareness of high-yield hybrid rice varieties in the past. In December 2008, the Chinese and Indonesian governments signed a framework agreement on hybrid rice technology. Efforts were made to help Indonesia develop relevant technology and increase rice production through conducting trial demonstrations of hybrid rice technology, organizing Indonesian technical personnel to receive training in China, and cultivating new hybrid rice varieties that are more suitable for local soil and climate conditions.
At present, hybrid rice technology has been successfully tested in many places of Indonesia, including Daerah Istimewa Yogyakarta, North Sumatra, Lampung, South Sulawesi, and West Kalimantan. These varieties have garnered widespread acclaim from local agricultural officials and farmers alike.
Cultivating the Islands
Since China is the first country to successfully achieve mass production of hybrid rice, Chinese companies enjoy more competitive advantages in rice technology cooperation with Indonesia.
In West Kalimantan, one of Indonesia's major crop-producing regions, local farmers had struggled with meager incomes for quite a long while in the past due to the low-level agricultural production technology. Pak Muzanni, a local rice farmer, left his hometown for Malaysia to make a living with his wife at a young age. In 1999, they started to plant rice after returning to their hometown. At that time, the annual rice yield per hectare was only about 1.8 tons. "The seeds were not in good quality," Muzanni recalled. "And we lacked access to skills training and had little knowledge about planting—We even thought that we could do nothing but wait for the harvest once a year after the seeds were sowed."
Since 2014, under the Belt and Road Initiative, Muzanni has cooperated with an agronomist team of Syngenta Group China. Now he can harvest rice three times per year with greatly improved yields thanks to technical guidance. Muzanni organized more than 40 local farmers to form a mutual-aid group to receive training on agricultural technology and financial services supported by the government and enterprises.
According to Puba, head of the Indonesian branch of Syngenta Group China, they dispatched a team of agronomists to each of the main islands of Indonesia to offer free guidance on agricultural technology to local farmers, involving seed selection, irrigation, fertilization, and others. Additionally, the company also promotes quality rice varieties, shares experience in plant protection, and provides agricultural insurance to local farmers.
Syngenta Group China has also created a farmers-oriented Modern Agriculture Platform to provide farmers and partners of the food value chain with comprehensive services both online and offline. For one thing, it develops one-stop solutions tailored according to farmers' needs and soil conditions, fully applies new agricultural technologies such as satellite remote sensing and drone crop spraying, and limits the use of pesticides and chemical fertilizers to reduce the impact on the environment. For another, it establishes direct partnerships with large-scale distributors to sell high-quality agricultural products at desirable prices and realizes the full controllability and traceability of agricultural products to ensure food safety.
"Now, the annual rice yield for most farmers reach seven to eight tons per hectare, and some even harvest nine tons per hectare," Muzanni beamed. "Our lives are getting better."