Shangri-La and Yading: A Storybook Landscape
Text by
Helena Villar Segura
Photographs by
Helena Villar Segura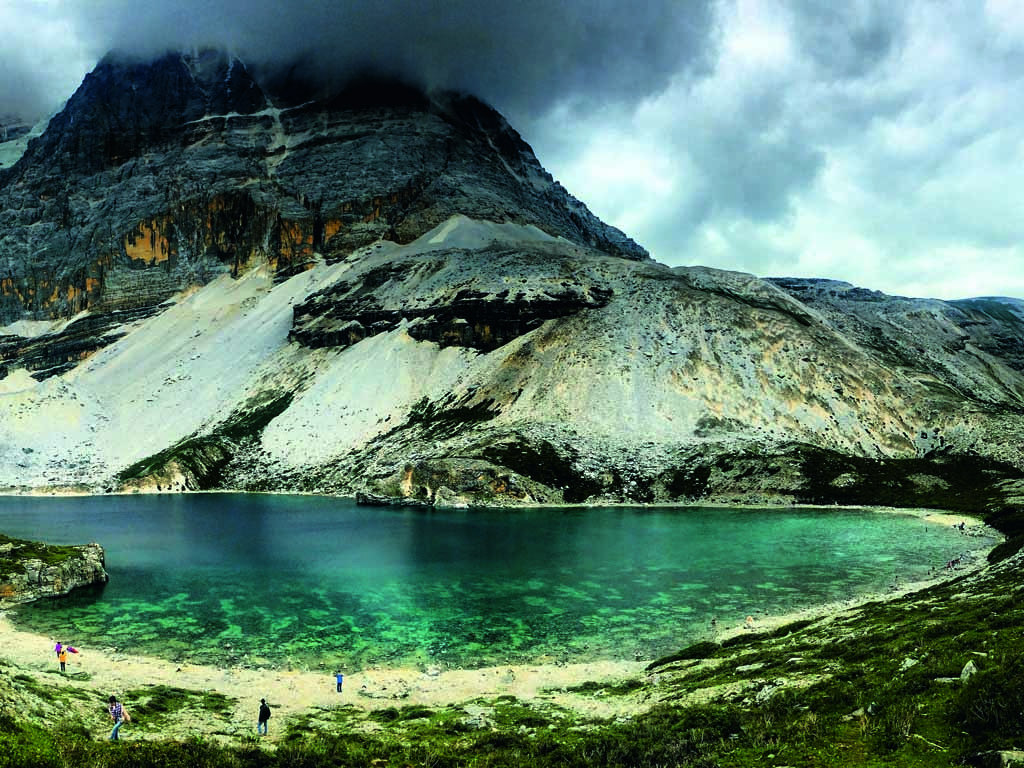 Zhongdian was once just a village surrounded by valleys in north western Yunnan Province. Impressively, it inspired the hidden land described by James Hilton in his novel Lost Horizon. The locale became so famous globally that it was renamed Shangri-La.
It was mid-morning by the time we finally found a car to take us there. A private van driven by a local guy with a strong accent pulled over to the shoulder, and we glanced at each other for a moment before jumping into the old vehicle without hesitation. Less than three hours later, we dropped off our luggage at a guesthouse and headed straight to the Ganden Sumtseling Monastery. At an altitude of 3,380 meters, the Tibetan Buddhist monastery reflects its gilded copper roof onto a silent lake. Only insects and swimming ducks disturbed the perfect image on the dark water. As we entered the monastery, a mysterious atmosphere surprised us: monks could be seen everywhere meditating or strolling around, colorful prayer flags of different sizes were hanging everywhere, and animals walked around freely in total harmony with every single element of the monastery. Even the sounds seemed to be coordinated in such perfect harmony that it was the closest thing to silence I have ever heard. Perhaps because it was about to rain, the sky darkened and the clouds thickened. The feeling was powerful and shocking due to the intensity of everything around me. The blues were bluer than ever, and same could be said for white or green. It was so peaceful that even before we stepped inside the halls of the "Little Potala Palace" to see its frescos and sculptures or smell the incense, the whole valley had impressed us.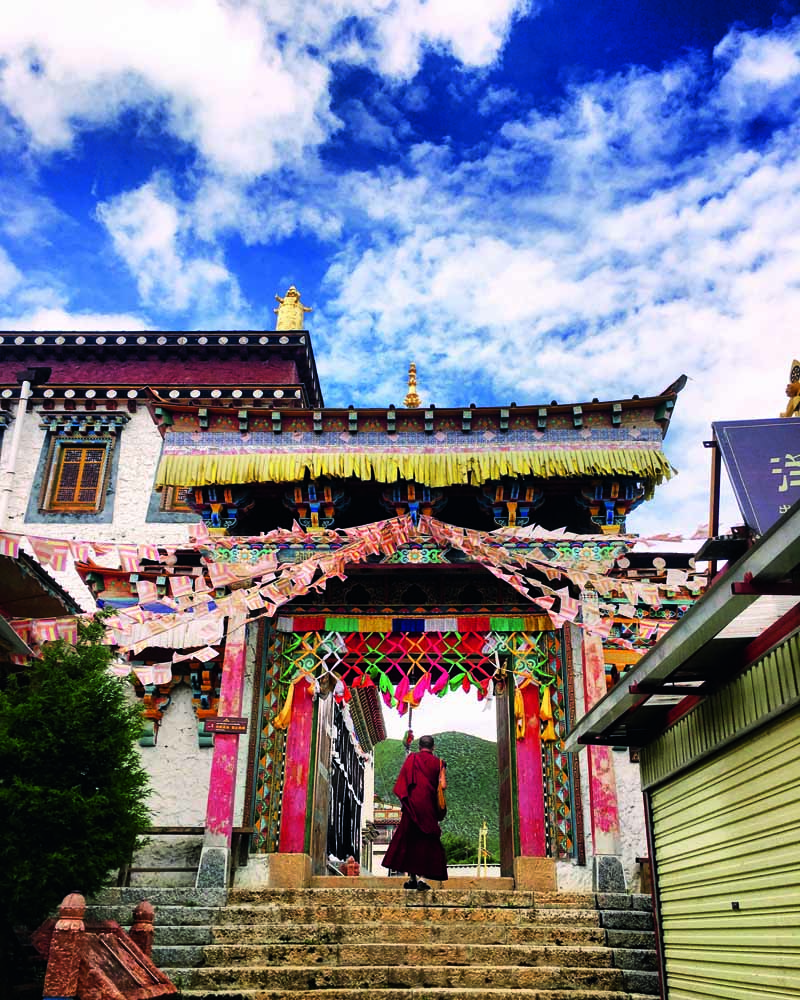 The next morning, we set out to the smallest coffee shop in Shangri-La, six kilometers from the largest Tibetan Buddhist monastery in Yunnan Province. The owner was a typical artist from Inner Mongolia who made "wish boxes." Visitors are supposed to write down a dream or wish and place it inside, lock it, and tell no one the password. Only someone who really wants to help a visitor realize his or her dream can open one box. I had a try. I carefully wrote down my biggest dream and put the little note inside a hand-made box with the number "3" written on it. Then, I forgot all about it. Only several weeks in the future would it catch up to me.
Those days we ate a lot of yak meat and potatoes, listened to Tibetan music, drank coffee and took long bus rides. The most impressive trip took us to a town called Daocheng in Sichuan Province. We endured more than 10 hours on the most amazing zigzagging road I have ever seen. Rain-soaked pine forests, breathtaking cliffs, yaks and wild horses and Tibetan architecture escorted us up to the plateau. It is a different world that literally takes your breath away. The high altitude affects many who reside in coastal areas. The lower air pressure makes physical activity more difficult. We were completely aware of this factor when we set off on a hike at an elevation of more than 4,000 meters. Locked in Yading Nature Reserve approximately 200 kilometers from Daocheng, where landslides decorated the road, are three holy mountains. We were drawn to the glaciated peaks and began slowly, carefully and wearily scaling the hills. Along the way, Tibetan nomads offered us horses for rent to climb up to Milk Lake. We refused them all. Even though we were exhausted after spending one night at that altitude and eating just a few snacks, we remained committed to hiking in. Milk Lake is an incredibly beautiful glacier-fed lake at an elevation of 4,480 meters. On the way we saw other hikers give up due to altitude sickness. It became intensely difficult to move and breathe: each time we stopped to rest just made it more difficult to start walking again. A weird headache set in as soon as we passed by the first lake and climbed on towards Five-Color Lake. Some variations of fatigue and nausea followed. And then we were there. A feeling of insignificance invaded us, as a majestic and spacious lake blanketed the foot of the mountain in front of us. Just a few people wandered the area, which seemed far from reality. Visitors took pictures, caught their breath and admired the bright and colorful water. The feeling was strange, beyond happiness or inspiration, something closer to fear. As if reality turned upside down, we soon found ourselves on a sandy beach 4,530 meters above sea level, but it was void of waves, salt, seagulls or marine animals. We expected anything else to emerge from the fresh water. It seemed fit for a creature like Loch Ness. We got a bit dizzy, not sure whether it was just the altitude, or more the beauty of the place. The next day we took a plane to Chengdu from the world's highest civil airport. On the flight, far above the snowy land we crossed, we could see the same peaks above the clouds. They looked as magnificent as they did from the ground.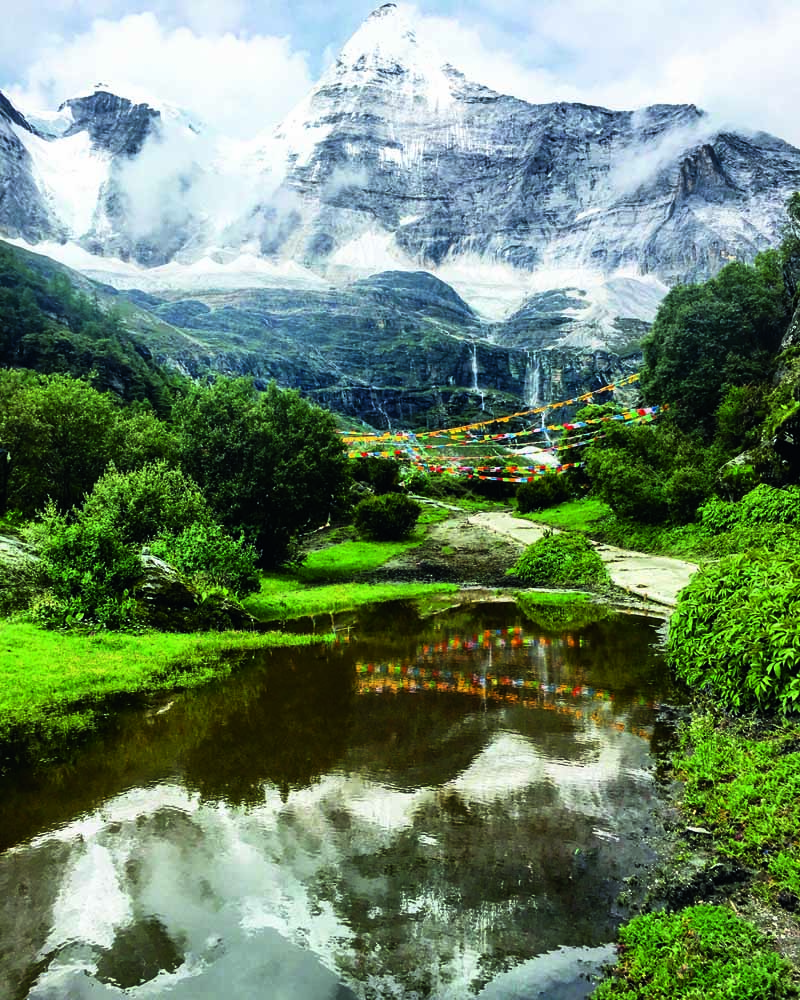 A couple of weeks later, when I returned to normal life, I got an e-mail from a girl who had opened my wish box in Shangri-La, which I could hardly believe at first. I wrote back to her. Along with the same favorite number 3, our dream was the same. "I can't make our dream come true," she admitted, "but we should talk about it some time, because I want to be a writer too." I may never get my wish, but as with everything on the trip, just making it was special.