The Second Half of the Coronavirus Battle
For the first time in nine years in Tunisia, Huang Cong didn't return home to Wuhan for Chinese New Year.
In 2011, at age 26, Huang ventured to Tunisia to start a business. After five years of painstaking effort, his business finally became profitable. Now, he manages five companies including a restaurant, a supermarket, a food processing facility and a travel agency that collectively earn revenues of two million Tunisian dinars (around US$680,000) a year. "In the past, the only private Chinese business you could find here was Huawei," he recounted. "Tunisia has a free trade agreement with Europe, so I hoped to establish a business in Tunisia before expanding towards Europe."
In early January 2020, Huang heard about an unknown pneumonia plaguing his hometown. Spring Festival is particularly important for nostalgic overseas Chinese people, and the news from home only became increasingly disturbing. The messages from his family quickly shifted from polite suggestions to forgo coming back to a stern warnings.
On January 23, lockdown measures were imposed in Wuhan. Agitated about the situation in China and his hometown, Huang, who is also chairman of the association of overseas Chinese there, scrambled to help the motherland fight the epidemic. He contacted a local factory that makes face masks. The factory manager had frequently visited Guangzhou and immediately agreed to donate masks to China. The factory with around 30 employees worked day and night in rotating shifts to produce masks. Huang even visited the plant to thank the staff and check production. They recorded a video to encourage Wuhan and China in the battle against the coronavirus. After painstaking efforts, the factory donated 100,000 masks to China. When the melt-blown cloth, a necessary material needed to make masks, ran out, Huang bought 20,000 masks from retail stores such as pharmacies to donate to China. When all of his sources for buying masks were exhausted, he donated 10,000 Tunisian dinars (about US$3,400) to the Red Cross Society of China through the Chinese Embassy in Tunisia.
China's situation has gradually improved. When he was busy supporting China's fight, Huang didn't realize it was only the first half of his battle against the virus.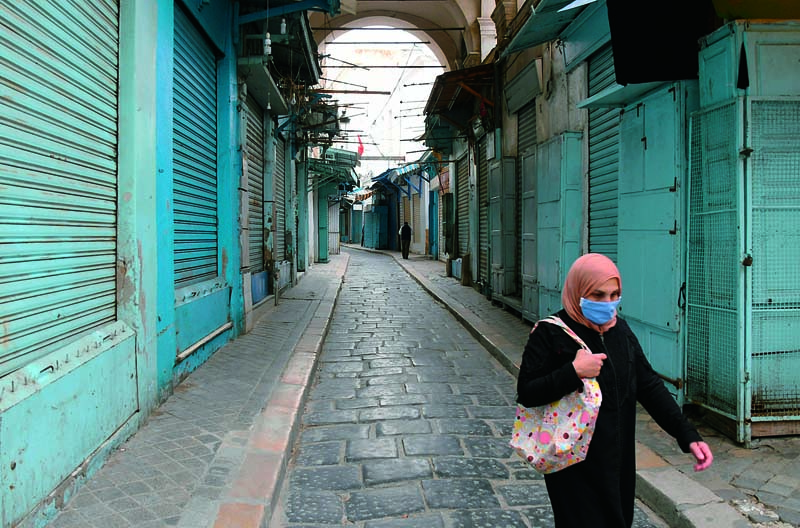 A grim joke about the fight against the pandemic has circulated noting that China played the first half, other countries are playing the second half, but overseas Chinese play the whole game. On March 2, the first case of COVID-19 was confirmed in Tunisia. On March 30, the president of Tunisia gave an amnesty, releasing 1,420 prisoners to help flatten the curve. By April 20, the country had 901 identified cases and a death toll of 38. The whole nation has been in lockdown since late March. Many Tunisians frequent Italy, and the flow of people between the two countries is normally heavy, which caused greater pressure on local leaders to contain the disease.
Huang's second half had already kicked off by late March. In 2015, he met a woman in Tunisia who eventually became his wife. Their four-year-old child was enrolled in a local kindergarten and is now taking two hours of online classes at home every day after all schools were suspended on March 20. His business also came to a stop.
After two months of the outbreak, the donor and the recipient had switched roles. Huang remains busy fighting the pandemic, but now facilitating inbound customs clearance instead of shipping outbound. Instead of donating to compatriots far away, donations are now being distributed locally. And the coronavirus is no longer news from remote places, but a danger lurking around the corner. Even after the country was locked down, Huang continued to go outdoors to clear customs, collect goods, and distribute personal protective equipment. Not many Chinese people live in Tunisia, so he usually distributes things himself.
Upon noticing that police officers and customs personnel lacked basic protective gear, he bought masks and other equipment from China. He not only donated many masks to the local customs authority, but also hit the streets to distribute masks and disinfectants to police officers. Locals have been moved by his actions. "Police officers saluted when I passed." He has donated 20,000 masks as well as disinfectants, protective gowns, and goggles to locals.
To deter panic buying, local authorities are rationing daily necessities. Although Huang's business came to a halt, he still offered low-priced necessities to Chinese visitors and employees stranded in Tunisia.
On April 8, the lockdown in Wuhan was lifted. Huang was relieved because his parents remained safe during the outbreak. He was also encouraged by China's ability to win the battle. However, he remains knee-deep in the second half. "Never give up" is Huang's mantra.
In Huang's eyes, Tunisians are straightforward, kind-hearted, and open-minded. Locals are very friendly to Chinese people. He is frequently greeted on the streets with "Ni Hao" ("Hello" in Chinese). And locals have always been happy to help during every process acquiring local licenses for his business. The heartwarming help from Tunisians when the outbreak in China began moved Huang a lot. He is resolved to stay with locals during the fight and remains confident in a total victory.