Threading the Needle
Text by
Qin Bin
Photographs by
Qin Bin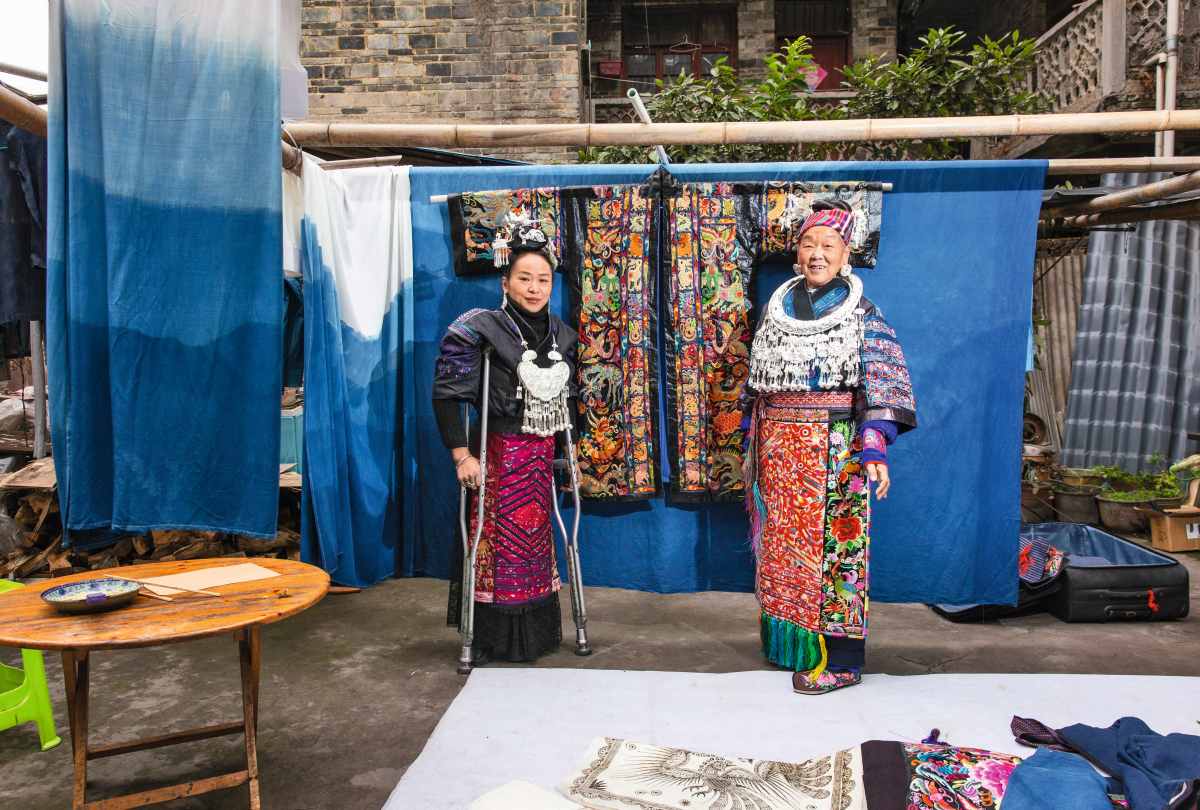 In early March, the temperature rose to more than 10 degrees Celsius in Hongyangzhai Village in Taijiang County, southwestern China's Guizhou Province.
On a rare sunny day after a week of rain, 78-year-old Pan Yuzhen slowly pulled out hand-embroidered costumes one by one from a large canvas suitcase. She hung them carefully on the branches of an ancient camphor tree and smoothed out the folds with her hands, watching them swing colorfully in the breeze.
Her daughter Zhang Yanmei, with a smartphone in hand, stood aside with a pair of crutches, livestreaming a scene of embroiderers dressing up. Female embroiderers from all over Taijiang County staged a special show featuring unique Miao ethnic garments and headwear on an ancient bridge in the village.
Serenaded by a reed-pipe wind instrument, more than 20 embroiderers dressed in traditional costumes slowly walked across the bridge, their giggles winding far into the distant mountains.
Across Generations
Over the past 20 years, Pan Yuzhen, an inheritor of Miao embroidery, a national intangible cultural heritage item, has traveled to more than a dozen countries including the United States, Britain and France with her unique and exquisite Miao embroidery.
At international fashion weeks, she walked runways exhibiting garments she personally embroidered. When the global fashion magazine Marie Claire reported on her story of displaying Miao embroidery abroad, many domestic and foreign designers were lured to Miao villages to learn and study this embroidery of ethnic flavor.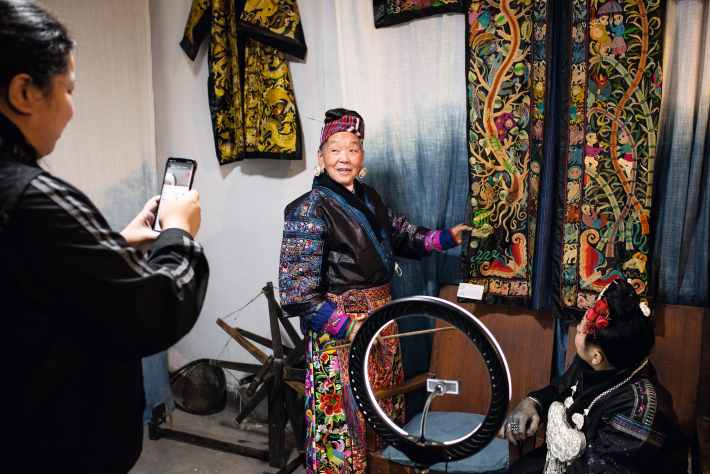 Now, her daughter Zhang Yanmei has taken over the work. Zhang contracted polio when she was three years old, so she has to use crutches to walk because of a disability. Growing up around embroiderers, she became one when she graduated from high school
In October 2015, Zhang co-founded Yangli Miao embroidery workshop with her sister. Not only did they realize their childhood dream, but also led a group of people out of poverty.
A traditional Miao costume themed on the epic song "Butterfly Mother" that is worn for the Guzang Festival is Pan Yuzhen and Zhang Yanmei's favorite. When introducing the piece, Pan Yuzhen always recounts the story of Butterfly Mother, the legendary ancestor of the Miao ethnic group, through the patterns on the costume.
Miao epic songs, a local genre of folk literature of Taijiang and Huangping counties in Guizhou Province and a national intangible cultural heritage item, involve various subject matters from Miao myths. In Miao epic songs, humans, animals, and gods all share the same mother: Butterfly Mother. Legend goes that she was born to the divine maple tree and gave birth to humans, animals, and deities.
The patterns on Miao costumes are inspired by epic songs, but the imagery hails from the embroiderers' imagination. Pan revealed that completing a full set of costume like the one for the Guzang Festival can take at least three years.
Persistence Despite Hardship
In the internet era, traditional marketing modes have changed dramatically. Zhang Yanmei attended some e-commerce training inTaijiang County a few years ago, but her Taobao store only offered a handful of products, and her regular users were not very active.
But perhaps the harshest reality is that machines can now accomplish tasks much faster than embroiderers can. With the development of science and technology, the pieces they spent years to create can be easily copied and mass produced. Although imitations never achieve the artistic level of originals, they require far less labor and still sell well for lower costs.
"In 2019, we produced costumes worth a total of more than two million yuan (US$290,000) that have not sold," lamented Zhang Yanmei. Unable to afford her 2022 embroiderer payroll of 260,000 yuan (US$38,000), Pan Yuzhen sold her retirement housing that took years of hard work to acquire.
They found a glimmer of hope in February 2023 at an intangible cultural heritage protection lecture event held by the China Development Research Foundation in Nayong County, Bijie City, Guizhou Province.
At the event, experts argued that intangible cultural heritage inheritors need more support and protection to effectively promote the sustainable and healthy development of intangible cultural heritage and aid rural revitalization.
If ancient techniques such as Miao embroidery are to be integrated with modern market trading mechanisms, traditional craftspeople need fair pay, reasonable working conditions, and more direct connections with customers. This is a common issue affecting the protection of traditional handicrafts around the world.
Some e-commerce platforms are starting to realize the importance of the issue, and many volunteers have participated in the development and protection of intangible cultural heritage.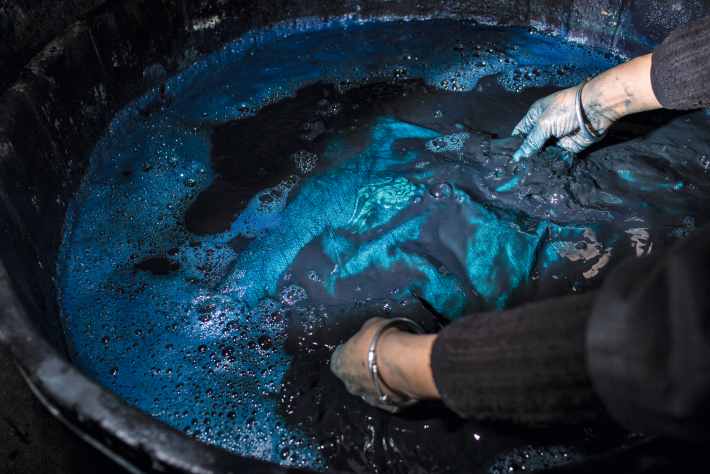 On February 20, 2023, six volunteers with expertise in product design, web design, photography, and livestreaming visited Zhang Yanmei's workshop.
They built a Taobao Live platform for Zhang and Pan's embroidery, designed new products, and organized a runway show in Miao villages featuring Miao embroidery to be livestreamed. Such efforts aroused public awareness of Miao embroidery and helped intangible cultural heritage inheritors receive better benefits.
In November 2022, 46-year-old Zhang Yanmei became a grandmother after her daughter gave birth to a baby girl. Pan Yuzhen named the child after her treasured workshop—Dongman. The name transliterated from Miao language refers to the divine maple tree of the Miao people. The tree's oil can be used as dye for clothing. She hopes that the young generation helps pass on the essence of Miao crafts and culture.