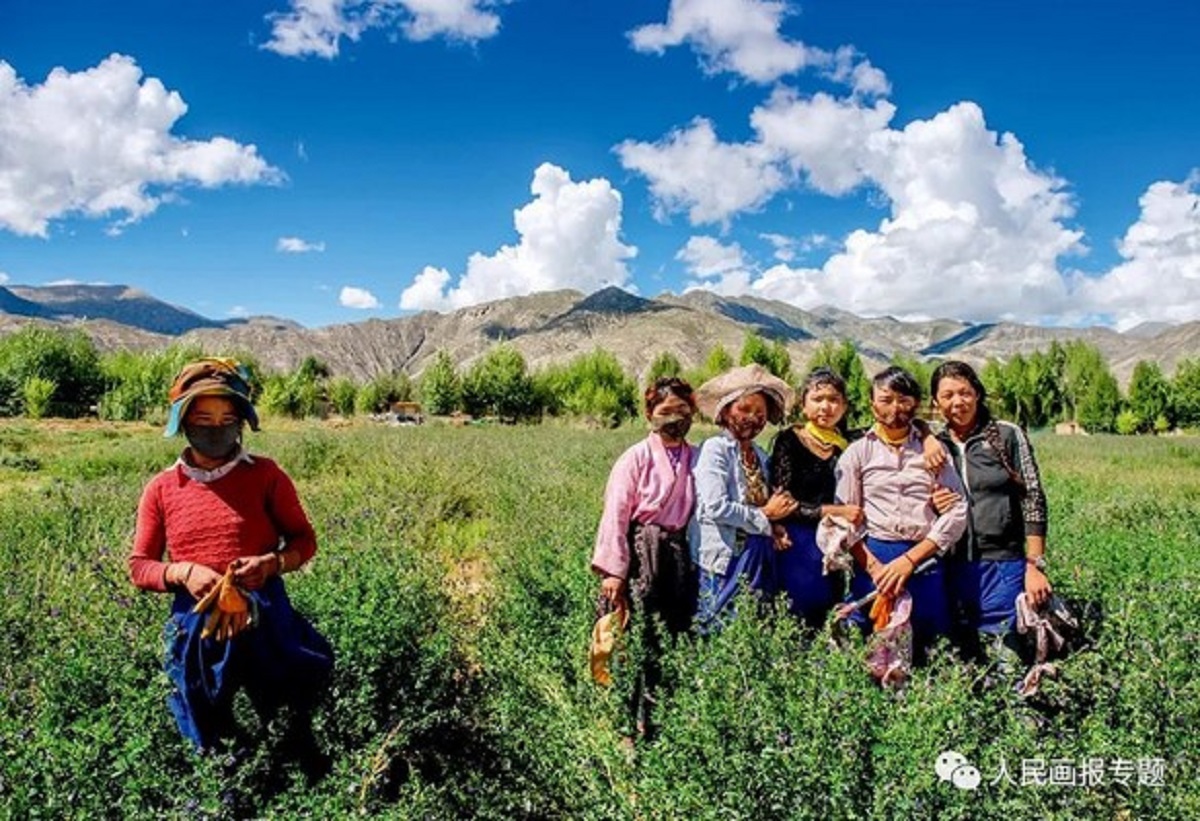 President Xi Jinping pointed out that Tibet, which lies in the heart of the Qinghai-Tibet Plateau, is significant as an ethnic bordering region in China, an ecological barrier, a unique culture that needs to be protected, and a world tourism destination.
Tibet has a vast land, magnificent landscapes, and abundant resources. The unique cultural atmosphere and living condition of the snowy plateau have shaped the distinct character of the Tibetan people and created a rich and splendid culture.
In 1959, a democratic reform was carried out for liberation of serfs in Tibet. The movement marks the liberation of millions of serfs in Tibet. Due to its historic significance, the event has become a grand festival that people of all ethnic groups in Tibet always celebrate. On January 19, 2009, the Second Session of the Ninth People's Congress of the Tibet Autonomous Region decided that March 28 each year would be the anniversary of the liberation of millions of serfs in Tibet.
In 1965, the Tibet Autonomous Region was established. A Tibet with economic prosperity, political progress, splendid culture, harmonious society, sound ecology and a happy life for the people has emerged over six decades.
Tibet has always been one of the focuses of coverage of China Pictorial for more than 60 years. The magazine has recorded the economic and social development as well as daily life on this snowy plateau with photos. The moments captured have become memories that will never be forgotten.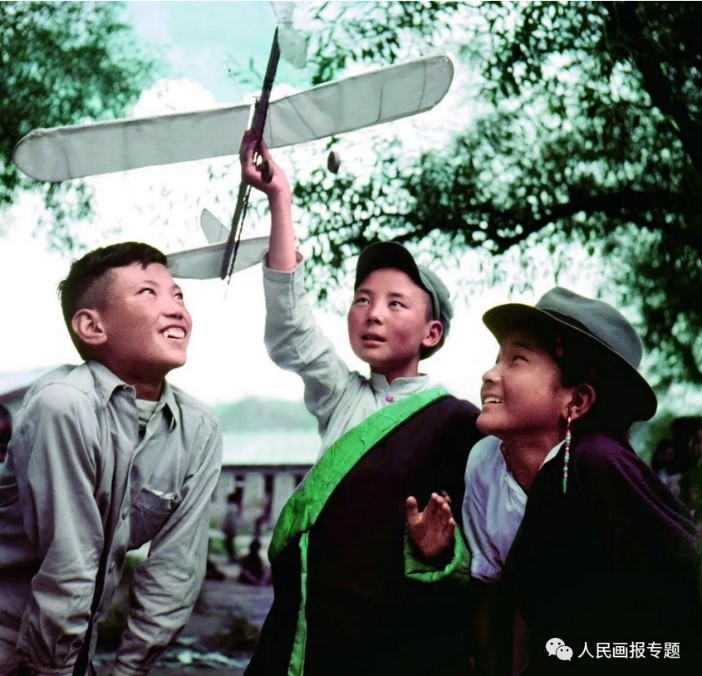 1955: Children make a paper plane in a science class, hoping that one day they can fly a real airplane in the blue sky of the plateau. by He Shiyao
1960: Members of an agricultural cooperative are sorting out good seeds. After Tibet's democratic reform, the Tibetan people formed agricultural cooperatives to promote production. by He Shiyao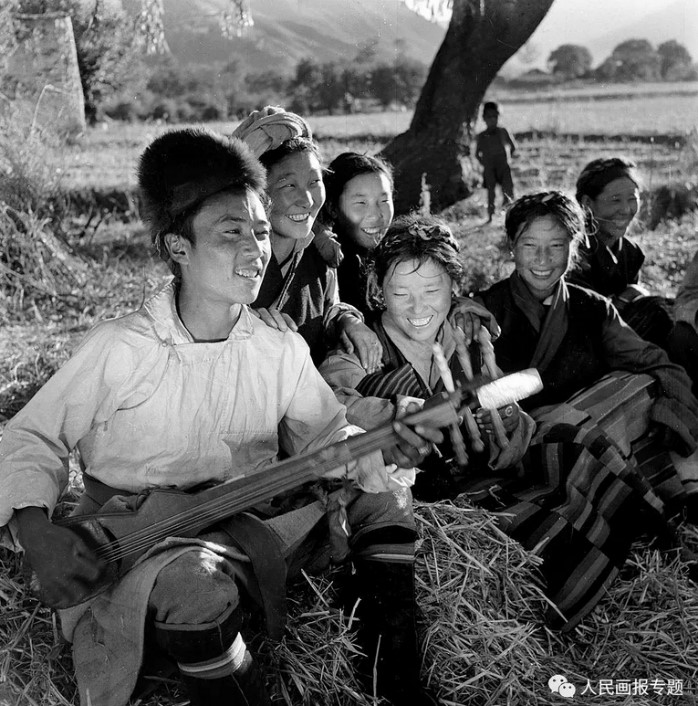 1963: Members of an agricultural cooperative in Nêdong District in Tibet enjoy themselves during a break when they work in the fields. by Ru Suichu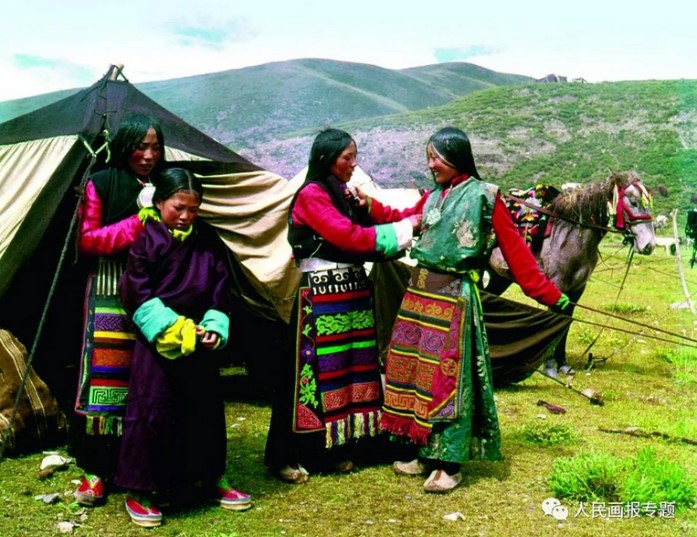 1963: Tibetan girls in new clothing attend an annual horse race. The horse race that is popular in Tibet dates back to over 500 years ago. It is for entertainment as well as trading of goods. by Ru Suichu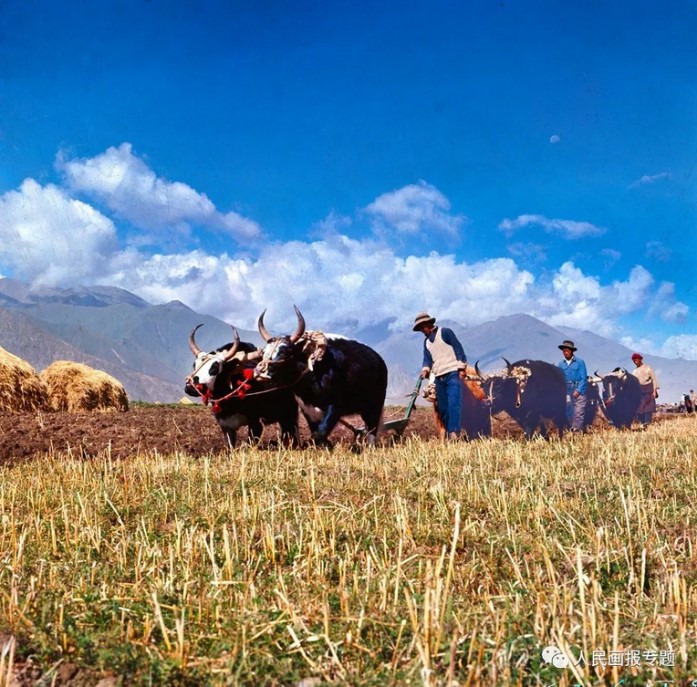 1965: Members of an agricultural cooperative are plowing a field in autumn. by Ru Suichu
1965: The Lhasa River Bridge, connecting the Qinghai-Tibet Highway and the Sichuan-Tibet Highway, is completed. Lhasa has seen remarkable development since Tibet's democratic reform. by Ru Suichu
1965: Tibetan electricity workers on a utility pole in Lhasa are checking the power lines. With the help of Han workers, the first Tibetan workers in modern industries emerged. They find jobs in all industrial sectors in Tibet. by Ru Suichu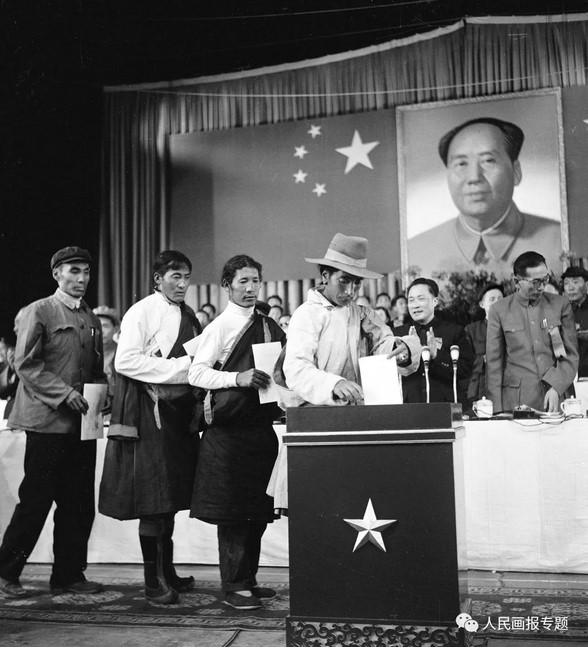 1965: Those who were slaves and serfs and were treated as "beasts that can talk" for thousands of years vote solemnly. by Ru Suichu
1965: Poor Tibetan women who could only go into labor in a cowshed or stable in the past can have a baby in a hospital for free. The woman in the picture, living in a poor condition, had three babies who died immediately after delivery. In July 1965, in the Tibet Autonomous Region People's Hospital, she safely gave birth to a boy. by Ru Suichu
1965: Students play during a break in a primary school in Lhasa. by Ru Suichu
2002: A smiling little lama. by Tang Tao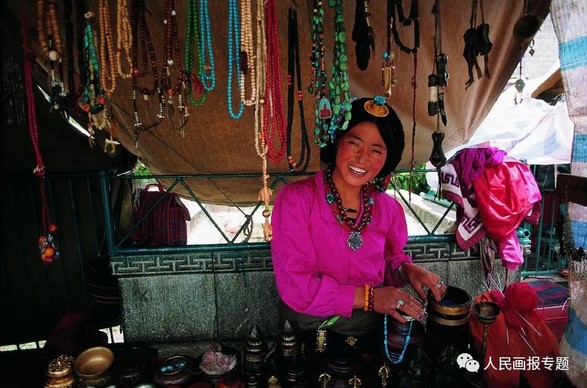 2002: A friendly shopkeeper with a splendid smile. by Tang Tao
Little readers at a horse race on the grassland in northern Tibet in summer. CFB
A Tibetan wedding. by Li Shuande and Yu Pengfei/CFB
2017: 23-year-old Pianduo (right) is knitting a Tibetan rug. She joined a cooperative in 2014. Working while singing makes the best relaxation for her. by Guo Shasha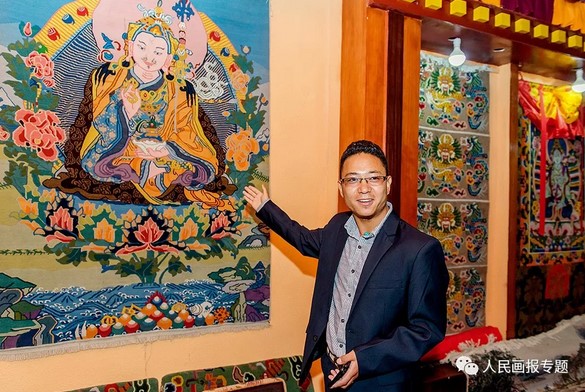 2017: According to Tenzin, his Tibetan rug cooperative has applied for the trademark "Gyantse Niwei". "Niwei" in Tibetan language means "sunlight." He hopes that through the effort of members of the cooperative, their Tibetan rugs can reach more places like sunlight. by Guo Shasha
2017: Villagers in Namling County, Shigatse City harvest Medicago sativa, a forage crop. Namling has promoted Medicago sativa planting, not only as a solution for shortage of forage in spring but also an industry that can increase the incomes of poor people. by Guo Shasha
Photo source: China Foto Bank (CFB)