UN head calls for solidarity with China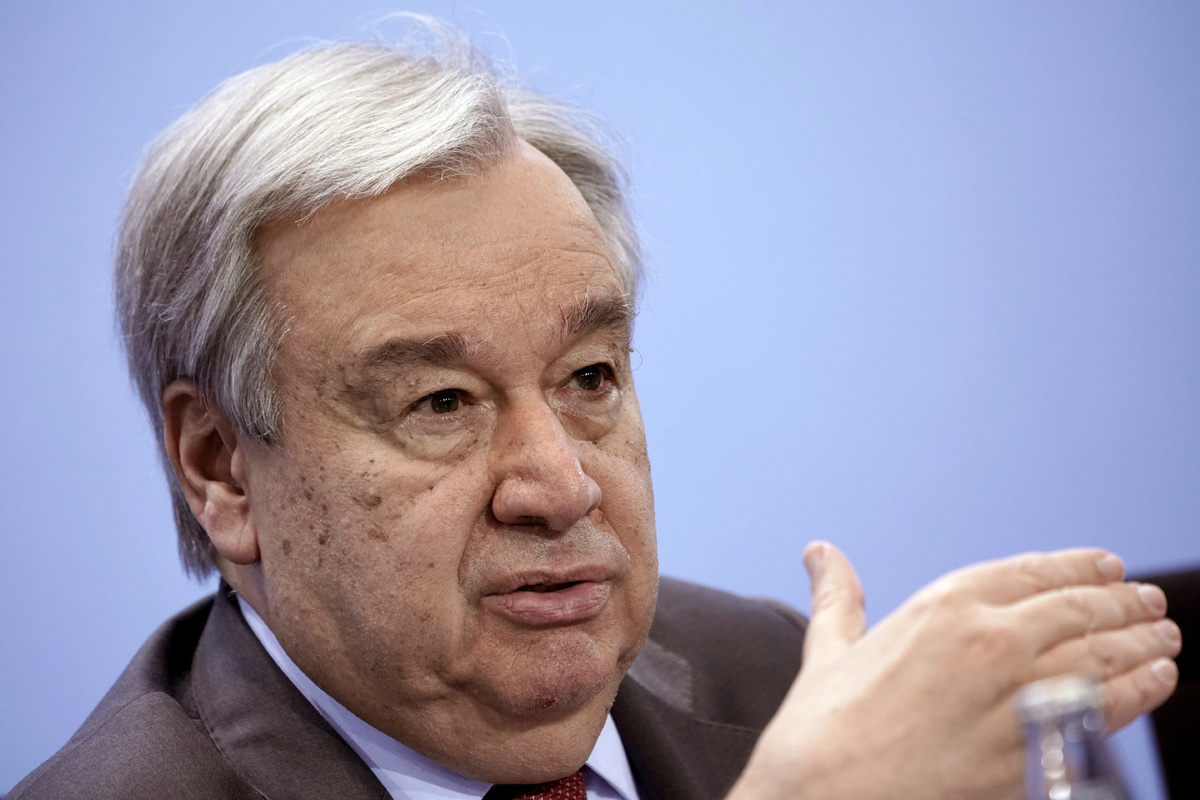 Addressing the challenges facing the world from the novel coronavirus outbreak, the head of the UN urged "a strong feeling of international solidarity, a strong feeling of support to China and all the countries that might be impacted," adding that he was strongly concerned with avoiding the stigmatization of those who are "innocent and victims of the situation."
During a press conference outlining his priorities for 2020 held at UN Headquarters in New York on Tuesday, UN Secretary-General Antonio Guterres said, "It's easy to move into perspectives in which there tends to be discrimination; there tends to be violation of human rights; there tends to be stigma on innocent people just because of their ethnicity or whatever."
"I think it's very important to avoid this," he stressed.
The number of confirmed cases of novel coronavirus rose to 24,324 in Chinese mainland as of Tuesday, including 490 deaths.
Guterres said he believes China has mobilized enormous resources and enormous capacity to respond to the outbreak. "And we have full recognition of that effort," he said.
But, he added, "the dimension of the crisis is such that all efforts are sometimes insufficient, and China itself was the first to recognize that there were some difficulties and shortcomings in the response."
Guterres told journalists that the UN has been working with other agencies, including the International Organization for Migration, which is "at the disposal of countries in relation to the problems of movement of people in these circumstances," as well as UNICEF.
"So, if you ask me, 'Are we doing everything we should?' Probably not," said Guterres.
On the other side of the globe, the UN's health agency announced it has taken steps to ensure that the coronavirus epidemic does not spark a dangerous social media "infodemic" fueled by false information.
WHO Director of Global Infectious Hazard Preparedness Sylvie Briand told journalists in Geneva on Tuesday that the UN agency has already moved quickly to dispel an online rumor that the virus can be caught from an infectious "cloud".
"People had suddenly the impression that the virus was in the air and … there is this cloud of virus" that can infect people. "This is not the situation," she said.
"Currently the virus is transmitted through droplets, and you need a close contact to be infected … so we try to clarify what we know about the science, what is still unknown, and to provide recommendations that can help people to protect themselves and their families," she said.
Briand's comments echoed those of WHO Director-General Tedros Adhanom Ghebreyesus, who said the agency is working to counter the large amounts of misinformation and rumor rapidly spreading via social media.
In a signed article titled "Global solidarity, collaboration and urgent action needed to defeat the new coronavirus outbreak" published on Time magazine website Tuesday, Tedros said that currently tech giants including Google, Facebook, Twitter, Tencent and TikTok are joining in to help share accurate advice and defeat potentially dangerous misinformation.
Tedros wrote that Chinese people and China's economy are bearing the brunt of the new coronavirus. "But the country is targeting the hot spots to fight it domestically and to limit its external spread," he said in the article.
"We will help China to sustain and step up these efforts," he added.
Tedros mentioned that at China's invitation, the WHO will deploy a mission composed of multidisciplinary experts under the framework of the Global Outbreak Alert and Response Network to work side-by-side with a group of Chinese experts.
In the article, he called for action on seven key areas, including resisting efforts to restrict travel or trade; increasing international support for fragile settings; accelerating development of vaccines, therapeutics and diagnostics; intensifying action to combat rumors and misinformation; reviewing and strengthening national health emergency preparedness plans; sharing data, knowledge and experience with the WHO and the world; and basing efforts to defeat the outbreak on a spirt of solidarity and collaboration.
"The unprecedented outbreak can be defeated if people act now," Tedros wrote. "To do so will require an unprecedented response, driven by global solidarity and collaboration and built on evidence-based action."
Earlier on Monday, Ambassador Zhang Jun, China's permanent representative to the UN, also called for international solidarity and cooperation in the face of the epidemic.
Zhang said in an interview at the UN that China appreciates the understanding and support of international organizations.
"At the same time, we call on all countries to adopt recommendations of WHO, not to overreact, not to take unnecessary intervention in international travel or suspension of flights, and not to take discriminatory actions against China and Chinese nationals," he emphasized.