Xi hails ties with leaders of Ecuador, Tajikistan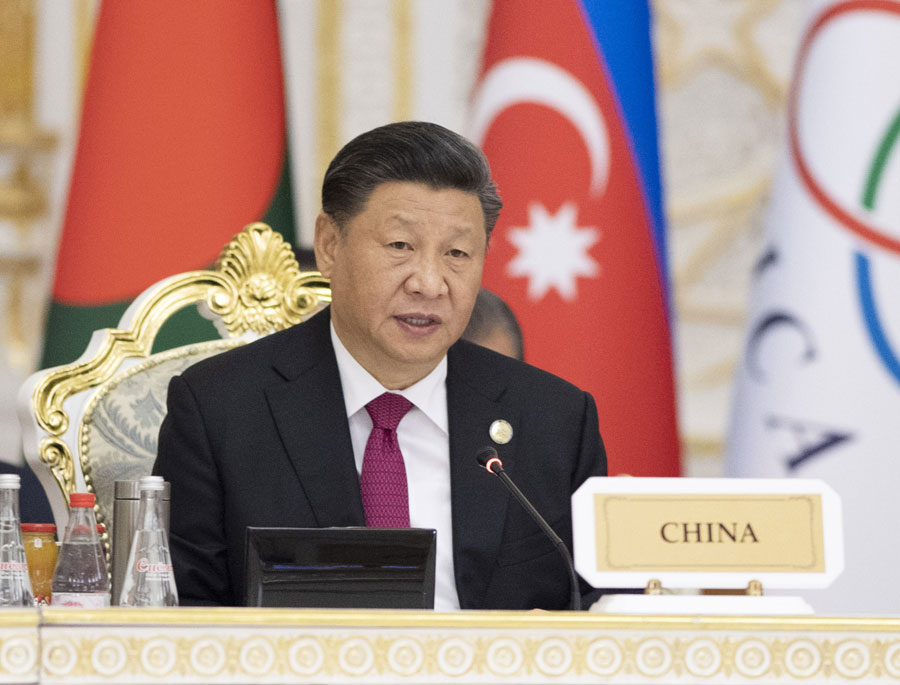 China stands ready to promote international cooperation in fighting the COVID-19 pandemic to secure the final victory over the global public health crisis, President Xi Jinping said on Tuesday.
Xi made the remark in a telephone conversation with Tajik President Emomali Rahmon. He also spoke by phone with Ecuadorian President Lenin Moreno on Tuesday night.
Mutual support and assistance between China and Tajikistan in responding to the novel coronavirus outbreak have demonstrated the spirit of their joint building of a community of common development and security, Xi told Rahmon.
While saying Tajikistan lent a hand to China when China was experiencing a hard time in its fight against the contagion, Xi also mentioned China's assistance to the Central Asian nation in curbing the virus by sharing anti-epidemic experience and sending a medical experts team to it.
Xi said China-Tajikistan relations are at a new historical juncture. He called on the two countries to make coordinated efforts to promote trade exchanges while ensuring epidemic control measures are implemented so that key Belt and Road cooperation projects can be carried out.
He also underlined the need to make plans about bilateral cooperation in fields such as trade and economy, investment, energy, mutual connectivity and agriculture to enable bilateral cooperation to make new progress after the pandemic.
Rahmon said China's effective response to the outbreak and its success in socioeconomic development have demonstrated the outstanding governance capacity of the Chinese government.
While saying his country will strengthen Belt and Road cooperation with China, he stated that Tajikistan firmly abides by the one-China principle and firmly supports China's measures to safeguard its national sovereignty and security.
In a telephone conversation with Moreno, Xi said China will continue to carry out anti-epidemic cooperation with other countries to jointly push forward the building of a community of health for all.
As the COVID-19 pandemic continues to spread, only solidarity and cooperation from all countries can help secure the victory over the contagion, he said.
Xi said that China supports efforts to strengthen coordination on macroeconomic policies among countries, to bolster the stability of the global economy and improve global governance.
China will continue to firmly support the South American country's anti-epidemic efforts, provide necessary assistance within its capability and discuss cooperation on vaccine research and production, Xi added.
He noted that China values developing China-Ecuador relations and is willing to overcome difficulties brought by the epidemic.
Moreno said that the assistance and support from China and its people have played a significant role in his country's fight against the novel coronavirus outbreak.
Ecuador hopes to learn from China's experience and strengthen cooperation with it in order to combat the virus and restore economic development, he said.